Adapting an in-person assessment event to a virtual experience during a global pandemic
Manchester Metropolitan University had commissioned Gradcore to deliver a series of in-person assessment centre simulation events for their students and graduates in Spring 2020.
However, due to the challenges COVID-19 presented, an in-person event was no longer possible.
Gradcore has been delivering virtual assessments for several years so was quickly able to transition the events into the online environment.
This enabled the participants to experience a mock assessment centre from the comfort of their own home.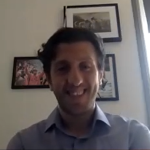 "A week after the virtual mock assessment centre, I had a similar virtual assessment to the one organised by Gradcore. The following day, I had a call from the company informing me I have scored the highest marks at the assessment and that they would like to offer me a position. I really want to thank Gradcore for this and for the opportunity to participate in such a great event. I really don't think I would have achieved the same result if not for the assessment and the support throughout the event. Thanks again!""
Ibrahim Tamam, BSc Software Engineering - Software Developer, Greensill