Employability
Navigate a changing landscape.
As employability continues to grow in profile – due, in no small part, to the rise of the Teaching Excellence Framework (TEF), new Graduate Outcomes Survey (GOS), substantial increases to tuition fees and league tables – we're here to help you navigate the challenges that come with it. Something we've been doing successfully for the past decade, working with leading institutions across the UK and Europe.
Here's how we can help...
Safety Net
Our support package for cohorts of graduates from your University, put into action between graduation and the Graduates Outcomes Survey (GOS) collection. Safety Net sees us directly support a targeted cohort of your students or graduates – often from an under-represented background – into graduate-level employment or a year-long placement. The graduates are coached by our team of experienced recruiters and HR professionals, and we shape a bespoke support package to get them moving towards a graduate-level job or work-placement.
PREP
PREP is our immersive assessment centre experience. It's designed to replicate the graduate recruitment journey, providing developmental feedback that can help increase employability levels and integrate with the curriculum. The experience is available as a one-off, or at the start and end of an academic year to help measure progress.

We're also able to deliver this remotely through a series of online assessments and interventions including virtual assessment and development centres.
Student and graduate development
With the use of interactive workshops, assessment simulations and digital resources, we can create a tailored development programme for your students and graduates. Our goal is to demystify the recruitment process, build confidence and raise aspirations.
Staff development and capacity building
Support and development for careers and employability teams, academics and personal tutors. With a series of interactive workshops on the latest themes and practices, as well as the provision of resources and materials, we'll equip participants to support students on their way to highly skilled employment or further study.
GERM
The Gradcore Employability Risk Model (GERM) uses a unique algorithm, developed over the last 5 years, to index entire student cohorts with the aim of identifying and understanding which students are most at risk of under or unemployment. This predictive data model uses more than 50 internal and external data points to create an individual risk score for each student. This empowers universities to target support more effectively and efficiently.
"The support programmes that we've put in place, working in partnership with Gradcore have all been really exceptional throughout the time that we've worked with the organisation and continue to offer us an additional angle to the voice that we present back to the university."
Jo Wheldon, Head of Careers and Student Enterprise, University of Derby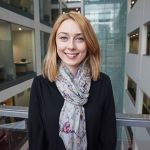 "Gradcore were very professional, experienced and friendly. They seemed to put the students at ease in what could have been quite a tense new environment for them, and allowed them to perform really well. 100% of attendees said they would recommend the assessment centres to a friend. "
Wendy Browne, Senior Employer Engagement Adviser, City, University of London 
Related case study