City, University of London.
Preparing students for placements.
The Micro-Placements Programme is a social mobility initiative from City, University of London. It places students, many from underrepresented backgrounds, into short-term career-exploration projects during the summer. A worthy cause. And the perfect opportunity to collaborate with Gradcore.
After sharing a conversation with us at the 2018 AGCAS Annual Conference, City's Employer Engagement team were looking for an opportunity for us to collaborate. That came with the Micro-Placements Programme for City students. Undergraduates who would be required to go through an extensive recruitment process before being selected.
To support their students, City asked us to design and host a professional assessment centre experience which would emulate the real graduate recruitment processes, preparing students for these future experiences and testing the university's own recruitment competencies.
The centre was designed to include professional tasks that could be marked against consistent competencies across the whole programme. This would enable the university to make more informed decisions, while personalised feedback reports for each attendee help the student to learn and improve for next time.
To date, the first of three assessment centre weeks have been completed, and with great success – 100% of students surveyed said they would recommend the centres to a friend.
We've already got a workshop booked in to see how we can improve the programme for the next group of ambitious students.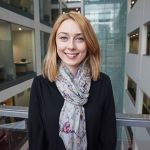 "Gradcore were very professional, experienced and friendly. They seemed to put the students at ease in what could have been quite a tense new environment for them, and allowed them to perform really well."
Wendy Browne, Senior Employer Engagement Adviser, City, University of London
100%
of attendees said they would recommend the assessment centres to a friend.