Higher Education.
Take it to the next level.
Universities want their students to arrive in the labour market ready to find their career path.
By offering distinctive and tailored programmes, we can help your institution to not just prepare your students for what's to come, but give them the confidence they need on the way to the career they deserve. We're here to help you take employability to the next level.
Just some of our services…
Employability healthchecks

Student and graduate development

Graduate Outcomes improvement

Graduate Employability Risk Model

TEF performance improvement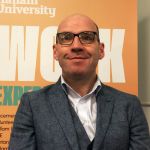 "Gradcore spent several months working with us and our colleagues in the academic community to really get under the skin of what we were doing and then gave feedback on what worked, what didn't and what could be the employability model of the future - that formed the basis of a really radical rethink."
Conor Moss, Director of BESE and Dean of Work-based Learning, Sheffield Hallam University
Case studies
Start your journey
Get in touch today to find out how we can help you